Dubai Gate 1 situated in Cluster Q of Jumeirah Lake Towers, is significant with its sophisticatedly constructed apartment complex. Of the four types of apartments, two-bedroom apartments in Dubai Gate 1 hold second place in popularity for their luxurious architecture. Stay in touch with the following section to learn more about the two-bedroom apartments.
Key takeaways
Two-bedroom apartments Includes four different unit types.
It's suitable for five to six occupants.
The annual cost ranges from AED 60k to AED 90k.
Features of two-bedroom apartments
Two-bedroom apartments in gate 1 consist of four different unit types. It has two to three bathrooms, a massive living room, a fully equipped kitchen, and a powder room. Two-bedroom apartments also include a separate room that has a closet. Additionally, the maximum capacity for occupants in this unit is five to six members.
Two-bedroom apartments at Gate1's annual cost is ranged from AED 60k to AED 90k. The area of two-bedroom apartments ranges from 770 square feet to 1519 square feet. The sale cost of two-bedroom apartments counts from AED 580k to AED 930k. It is also rated as the second most profitable property to be rented or purchased.
You can click here to view available apartments.
| | |
| --- | --- |
| Area | JLT Cluster Q, Jumeirah Lake Towers, Dubai |
| Apartment type | Two-bedroom apartment |
| Apartment area | 770 sq. ft. – 1519 sq. ft |
| Average price | AED 67,000/ year |
| Inclusive of | A Living room A Kitchen Two to three bathrooms A powder room A closet room |
| Apartment amenities | Included |
| Rental trend | AED 60k – AED 90k |
| Capacity | Five to six occupants |
Types of two-bedroom apartments in Dubai Gate 1
With the intention of giving more choices to clients, There have 4 different types of apartments in two-bedroom apartments. In the next section, you can find out the floor plan of those two types.
Floor plan types of two-bedroom apartments in Dubai Gate 1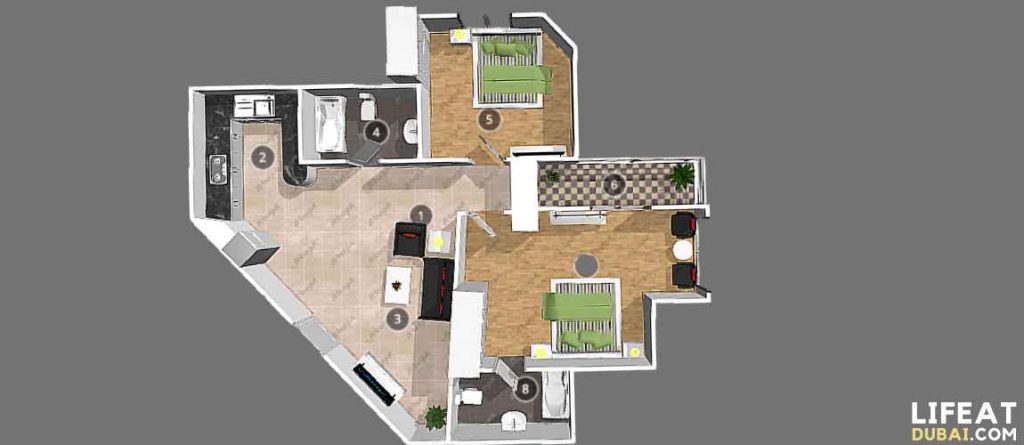 Also read,