Dubai Gate 1 in Jumeirah lake towers is a luxury apartment complex with high-end unit features and four types of apartments. Apart from basic elevated facilities, every apartment has unique features. If you want to learn more about one-bedroom apartments in Dubai gate 1, read the entire section.
Key takeaways
There are seven different unit types available in Dubai gate 1 one-bedroom apartments.
It is suitable for three to four occupants
The annual cost ranges from AED 37k to AED 74k.
Features of one-bedroom apartments
Facility-wise, all apartments in Gate 1 come with stainless steel furnishings, wide balconies, and modern implementations. Despite that fact, one-bedroom apartments in Gate 1 come in seven unit types. It has a modernly furnished living room, a fully equipped kitchen, two bathrooms, and a powder room. The living room is designed to be aligned with the balcony.
A one-bedroom apartment is one of the most popular and highly rated apartment types in Gate 1. Its seven units include a separate room for a closet. It costs between AED 37,000 and AED 70,000 per year. One-bedroom apartments range from 450 square feet to 1158 square feet. This has also been counted as one of the most profitable apartments to rent.
Click here for further details.
| | |
| --- | --- |
| Area | JLT Cluster Q, Jumeirah Lake Towers, Dubai |
| Apartment type | One bedroom apartment |
| Apartment area | 450 sq. ft. – 1158 sq. ft |
| Average price | AED 50,070/ year |
| Inclusive of | A Living room aligned with a balconyA Kitchen One to two bathrooms A powder room A closet room |
| Apartment amenities | Included |
| Rental trend | AED 37k – AED 70k |
| Capacity | Three to four occupants |
Types of one-bedroom apartments in Dubai Gate 1
With the intention of giving more choices to clients, There have 4 different types of apartments in one-bedroom apartments. In the next section, you can find out the floor plan of those two types.
Floor plan types of one-bedroom apartments in Dubai Gate 1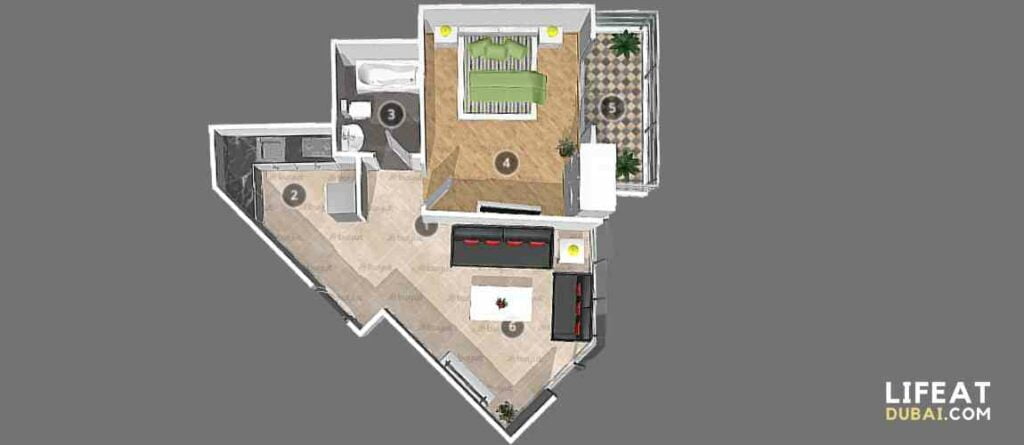 Also read,