Dubai is one of the most visited cities in the world, so we decided to explore Dubai's most popular Coworking Spaces around Dubai Marina that provide excellent business infrastructure. 
First, we selected Coworking spaces around Dubai Mariana with a high demand on Google search. Then, we collected review counts and rates on Google for each selected Coworking space. Based on that, we picked the top 6 Google-reviewed Coworking spaces around Dubai Mariana.
Accordingly Google reviews Nook Coworking space is the best coworking space in Dubai Marina.We used avyanco.com, coworker.com, dubaitravelplanner.com, emirates.com, Wikipedia, and more to write this article.
1. Nook Coworking (⭐4.8 out of 113 reviews) 

Nook Coworking is a unique expansive workspace that facilitates coworking, studio facilities with private offices, meeting rooms, event spaces, sports, and wellness. It offers coworking plans for daily, weekly, and monthly access.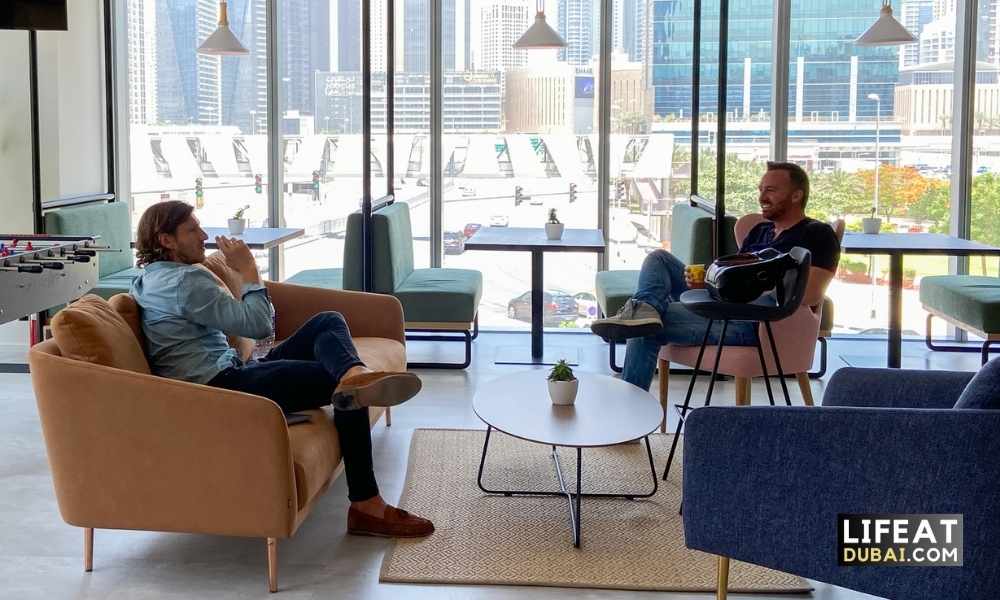 UNBOX is a community of startups, freelancers, entrepreneurs, and corporate clients. They offer access to a complete suite of in-house services of admin, IT, business registration, and PRO services for their members.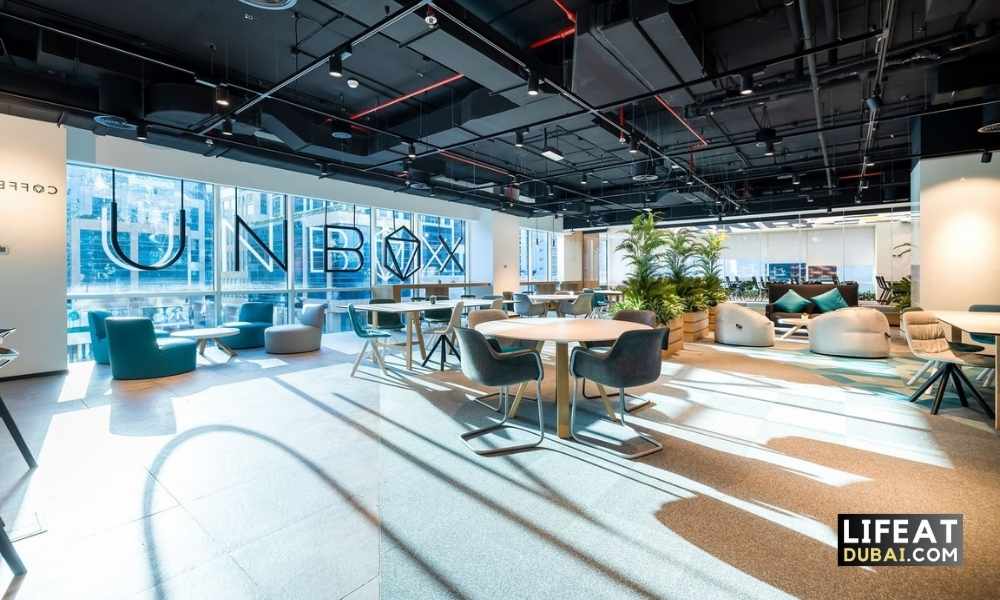 3. LetsWork (⭐4.7 out of 169 reviews) 
LetsWork Dubai is a part of the affordable coworking community space of a global platform. It also partners with nice hotels and restaurants across Dubai during the off-peak hours.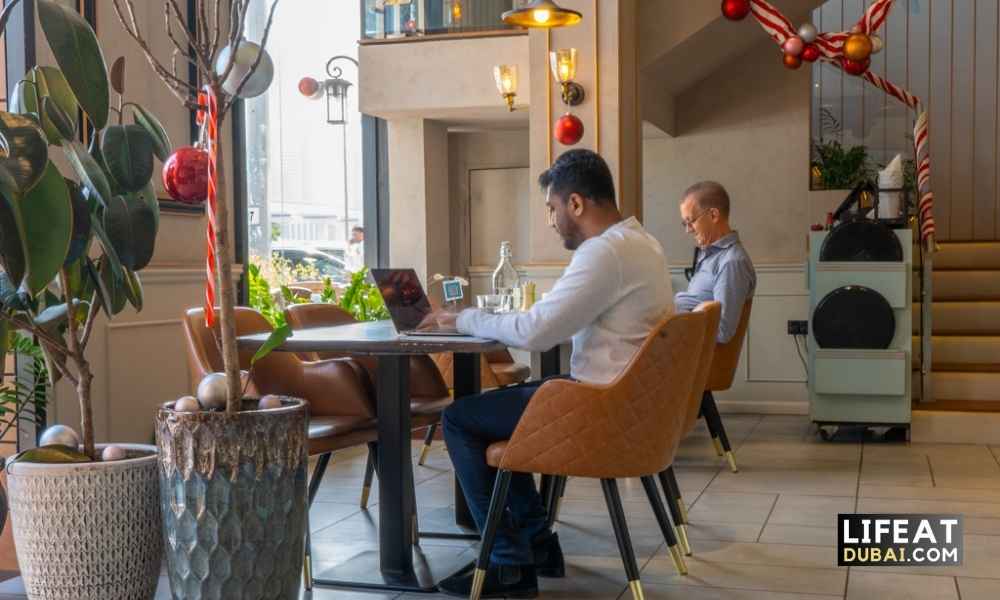 4. AstroLabs (⭐4.6 out of 235 reviews) 
According to AstroLabs Facebook page, "AstroLabs is a technology ecosystem builder that enables the growth of people, companies, and innovation."
AstroLabs Coworking Space is an ideal office space, especially for technoids. AstroLabs hosts several digital skills training sessions and community events. Further, it offers plentiful opportunities for entrepreneurs to grow as AstroLabs partners with IBM and Google.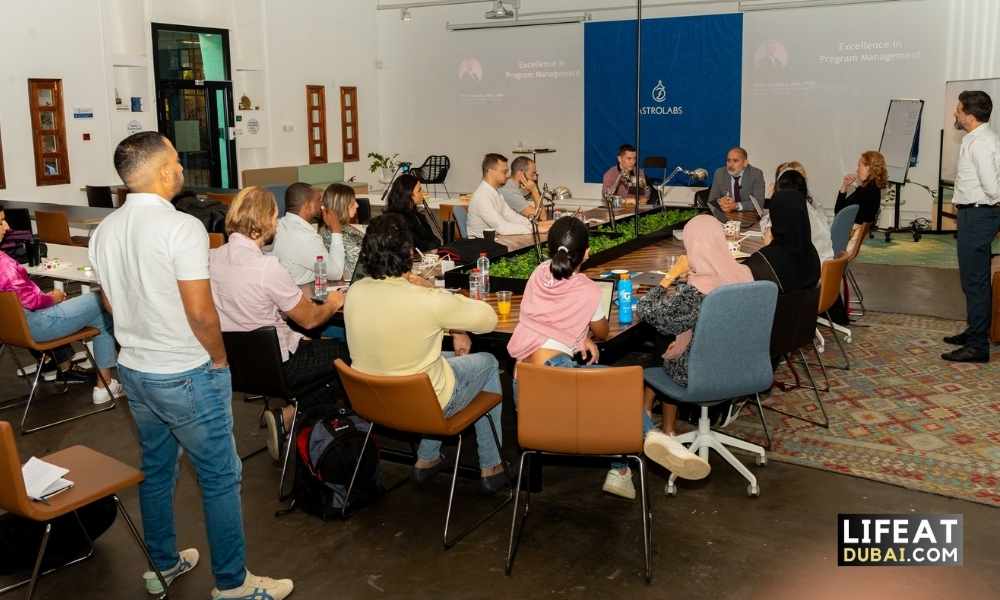 5. Nasab (⭐4.5 out of 64 reviews)
Nasab is a great space to work, wellness, and socialization. They also allow the choice of private office suites, shared workspaces, and meeting rooms for their members.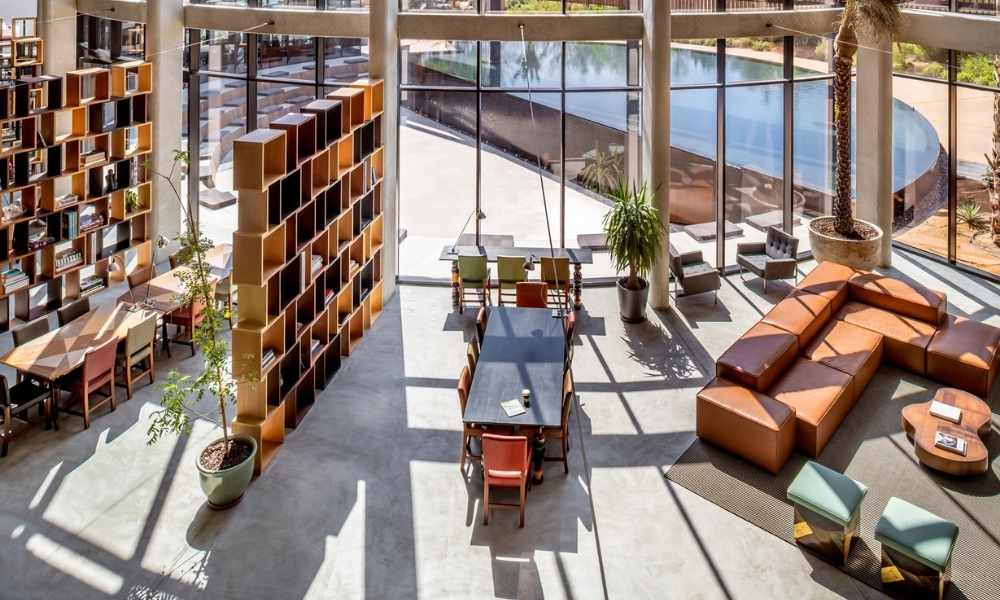 6. A4 Space (⭐4.4 out of 102 reviews)  
A4 Space is a warm and friendly ambient coworking space with sustainability at its core in Dubai based on Alserkal Avenue. This unique space is ideal for individuals who are in the art field. 
Conclusion
| | | | | |
| --- | --- | --- | --- | --- |
| Co-working Space | Price Range | Distance to nearest Metro Station | Opening hours | Accommodation availability |
| Nook Coworking | AED 1121 Per month (Hot Desks) | Dubai internet city metro station 2 is the nearest metro station and distance 4.8 KM | 8.00 AM 8.00 PM (Weekdays), 9.00 AM – 6.00 PM (Weekend) | No |
| UNBOX Community | AED 850 Per month (Hot Desks) | Business Bay metro station is the nearest metro station and distance 2.9 KM | 9.00 AM -6.00 PM (Sun.-Thu.) | No |
| LetsWork | AED 490 Per month (Hot Desks) | N/A | 10.30 AM -11.00 PM | No |
| AstroLabs | AED 1500 Per month (Hot Desks), AED 3500 per month (Dedicated Desks) | Sobha Realty Metro Station is the nearest metro station and distance is 7.5 KM | 24 hours | Yes |
| Nasab | AED 1150 Per month (Hot Desks) | N/A | 8.00 AM -6.30 PM (Weekdays), 9.00 AM – 5.00 PM (Weekends) | Yes |
| A4 Space | N/A | N/A | 9.00 AM -7.00 PM (Mon.-Sat.) | No |
Also, read about 6 Best Coworking Spaces around Burj Khalifa Downtown Dubai