We compiled our list of the Best Coworking Spaces around Bur Dubai according to Google reviews and included details of their facilities for easy reference. Bur Dubai, one of the most visited cities in the world, offers luxurious and well-equipped coworking facilities. These spaces facilitate networking opportunities by bringing together professionals from diverse backgrounds. While reviews nominate myOffice – Dubai Marina as the best space, we recommend you also glance at the other top contenders.
01. myOffice – Downtown Dubai (4.8⭐ out of 165 reviews) 
This second branch of myoffice offers the same amenities as their Dubai Marina branch. The staff is proficient in English, ​Hindi​, Urdu and ​Tagalog. It is open from Sunday to Thursday and is closed on Friday. Saturday hours are 09:00 to 13:00. Their facilities include kitchen facilities and access to Cafe. Their covered car parking facilities are in the Boulevard Plaza and Dubai Mall. Drinking water is free, but snacks are available for purchase.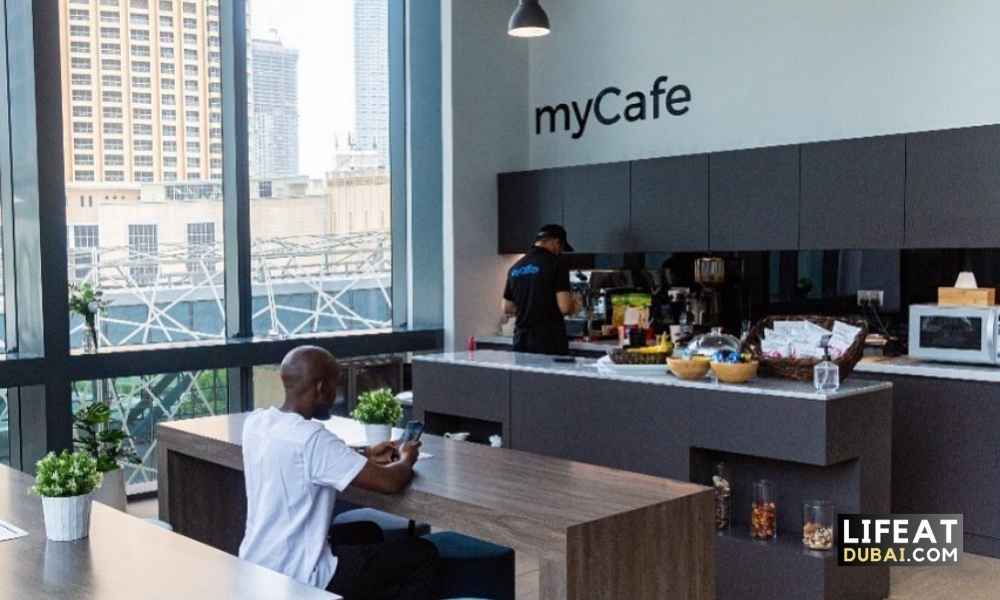 02. Letswork (4.7⭐ out of 169 reviews)
The "Letswork" coworking spaces overlook the Dubai Polo & Equestrian Club grounds. It allows for excellent views for the members, translating into a calm environment. The spaces are highly affordable and have all the amenities required to conduct business seamlessly. An onsite restaurant allows for convenient refreshments at any time..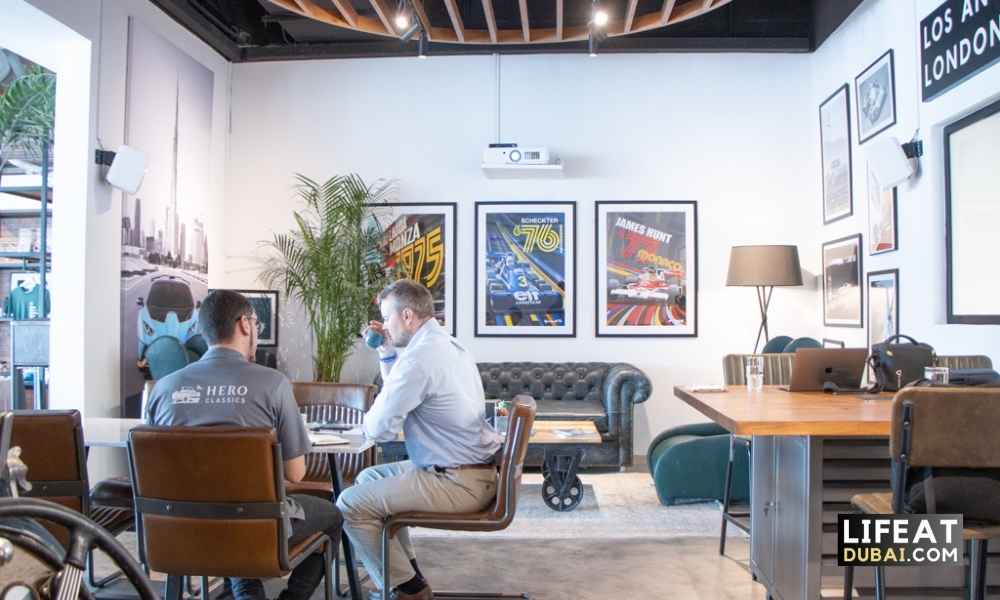 UNBOX is a community and workspace that brings startups and established industry leaders together to create more opportunities through collaboration and interaction. Their primary focus is to help clients unleash and explore their ideas and concepts. 
They offer a diverse range of seating options, from comfortable beanbags to ergonomic chairs. Additionally, they provide food and drinks for purchase, with complimentary water available. Moreover, their impressive amenities include a recording studio equipped with a green screen. Members have 24-hour access to their spaces.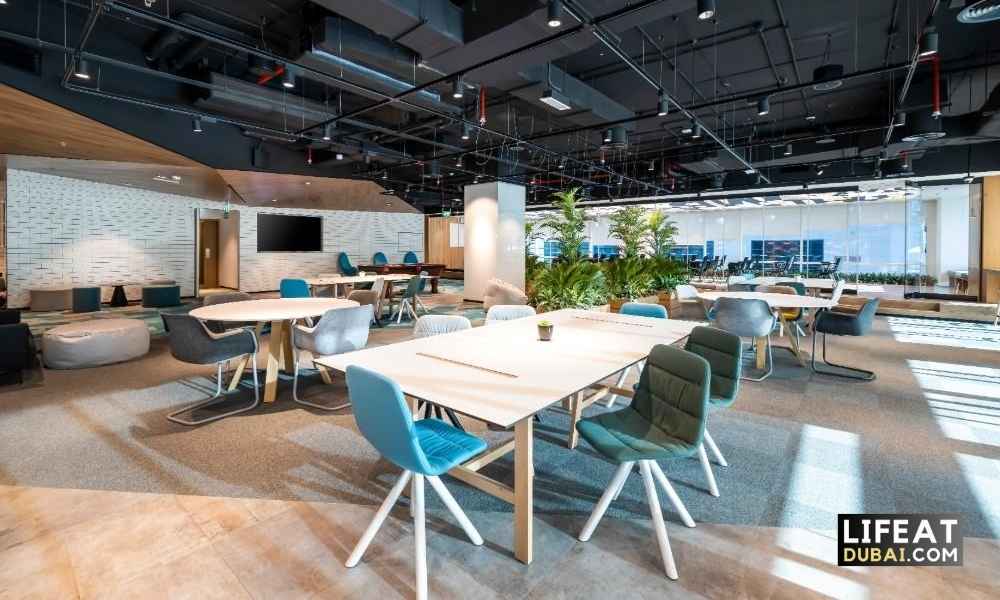 04. The Executive Centre – One Central Dubai | Virtual Office and Workspace (4.7⭐ out of 60 reviews) 
The Executive Centre coworking space has a long history of providing office spaces and has expanded to 100+ centres in 30+ cities & 15 countries. Founded in 1994, these offices feature luxurious amenities for its clients, including Herman Miller Chairs, Storage cabinets, CISCO phones, 40-seater premium Lounge & Cafe area. 
The spaces host various community events for the patrons to enjoy networking opportunities. They have a retro feel in the interior and even have an old-fashioned phone booth in the space. A podcast room is also available.
Parking availability -Yes, There is charging ports for electric cars.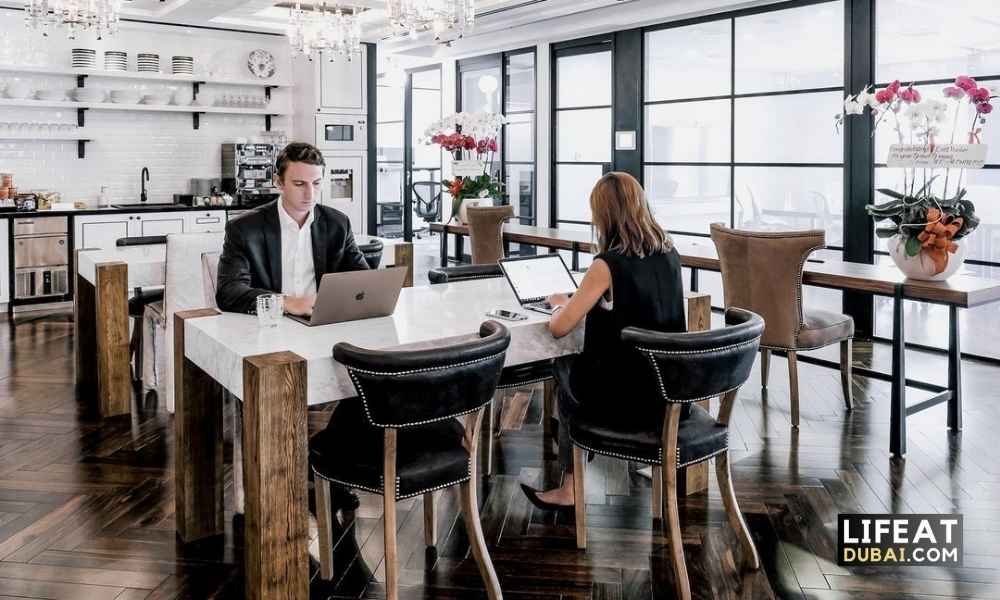 05. A4 Space  (4.4⭐ out of 103 reviews)
This Art Gallery themed A4 Space coworking space is built on principles of sustainability. They offer a variety of seating options ranging from traditional seating to couches and beanbags. They offer all basic amenities in addition to their unique inhouse library and cinema screening room.
The cafe offers the best of the world of coffee with a selection of beverages from the Raw Coffee Company. The best part is here the space is free to use and they request your contribution to help them keep it running through the purchase of food and beverages.This Art Gallery themed coworking space is built on principles of sustainability.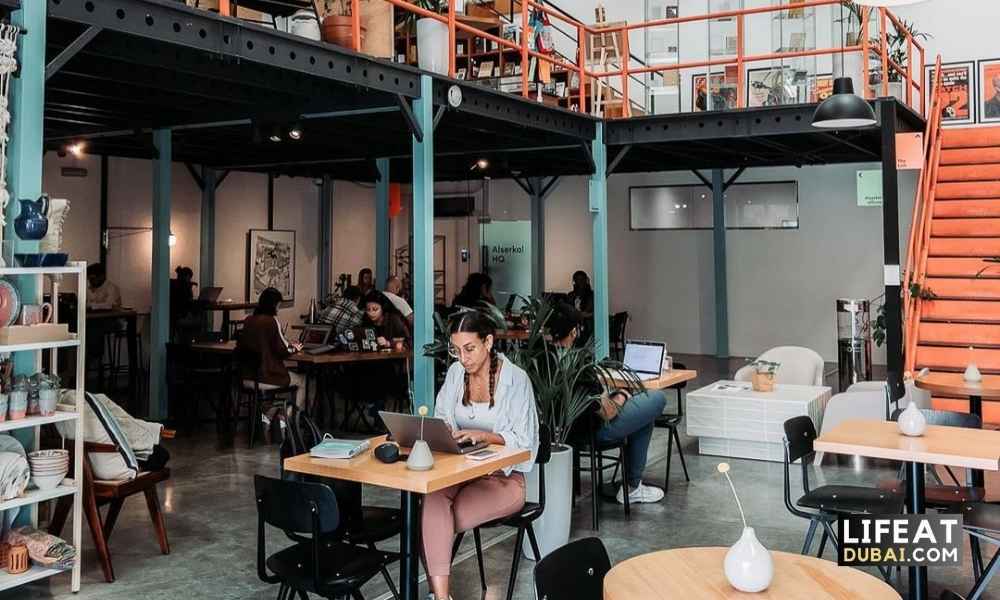 06. WeWork – Office Space & Coworking (4.3⭐ out of 51 reviews)
Located in the One Central Building, the WeWork coworking space offers premium amenities in an award-winning Grade A commercial development. Located near many high-end hotels and establishments and a mere 10 minutes away from Dubai Design District, this space offers the most incredible convenience to its clients. The lounges are decorated tastefully with artwork and chic furnishings, so it's an ideal place to meet clients and make a good impression.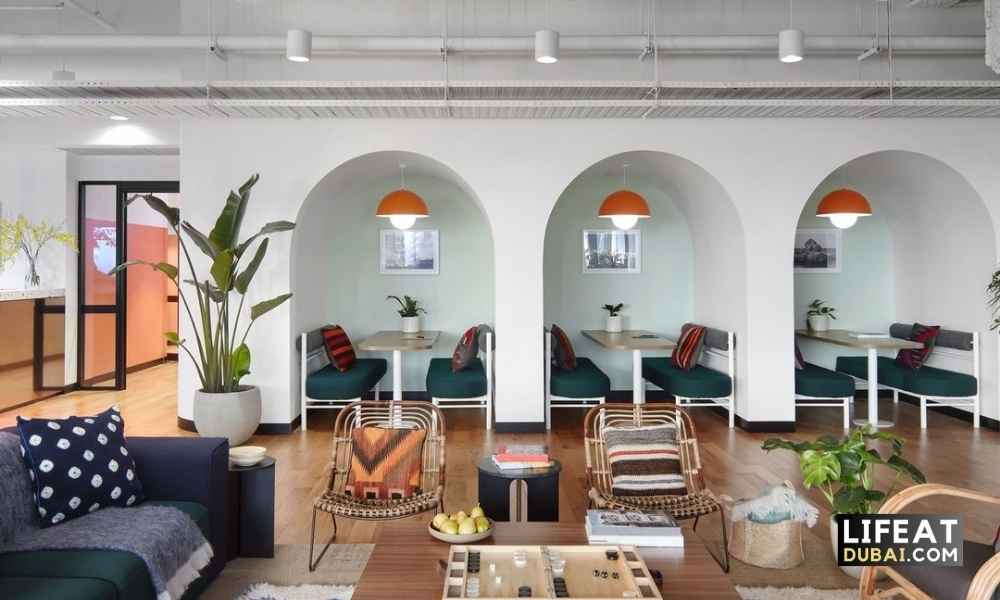 07. The Co-Spaces (4.0⭐ out of 30 reviews)
Comprising several flexible options, including desks, private offices, lounges, work benches, meeting rooms, and phone rooms, The Co-Spaces is an ideal location for your next coworking experience. With all the required amenities at affordable pricing, this space also includes a meditation room for when you feel the need to relax during stressful hours. Complimentary tea, coffee and drinking water are available at all times. Their listing on Coworker.com includes an extensive list of all amenities available.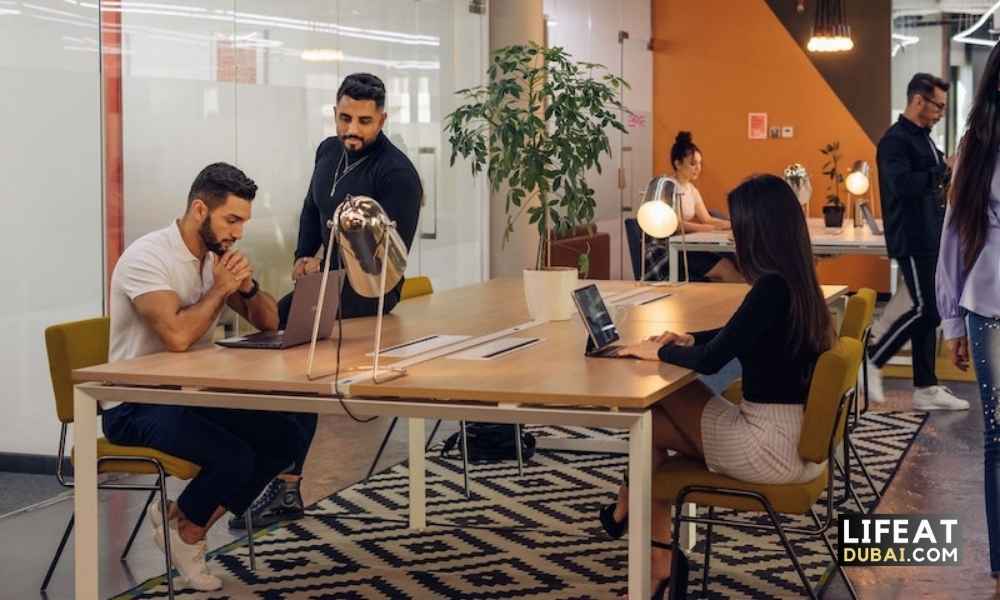 08. Servcorp Emirates Towers – Coworking, Offices, Virtual Offices & Meeting Rooms (4.2⭐ out of 38 reviews)
Servcorp coworking spaces at Emirates Towers offer clients an experience of professionalism and luxury. The area is designed in an open-plan layout and offers offices and meeting rooms for privacy. Workers can request dedicated admin assistants to take care of daily matters while concentrating on their business. A receptionist is also on hand to greet and direct visitors to the building.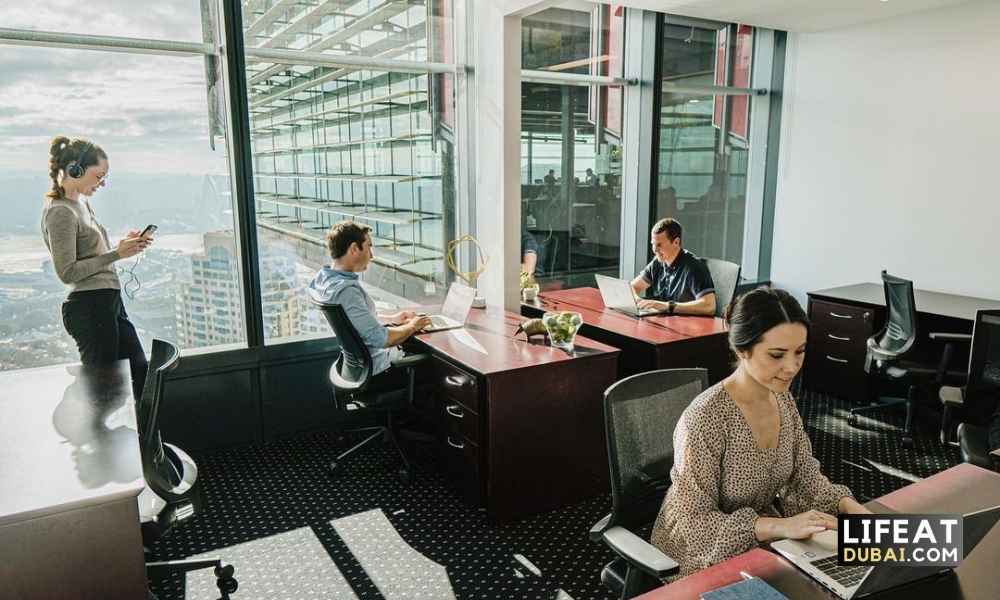 09. Servcorp Boulevard Plaza (3.6⭐ out of 16 reviews)
Servcorp has several locations across Dubai and UAE. The Boulevard Plaza office has coworking spaces with luxury amenities and administrative solutions. According to varying budgets and needs, It has several facilities, including dedicated landlines, secretaries, and receptionists who will answer your calls and preferred greetings, couriers, PO Box & mail management and meeting rooms.
You can also use their address for your business cards and website. Unlimited self-serve coffee, Twinings Tea, fruit, and water are available. Also, Join their online community to meet 50,000+ members and collaborate with them.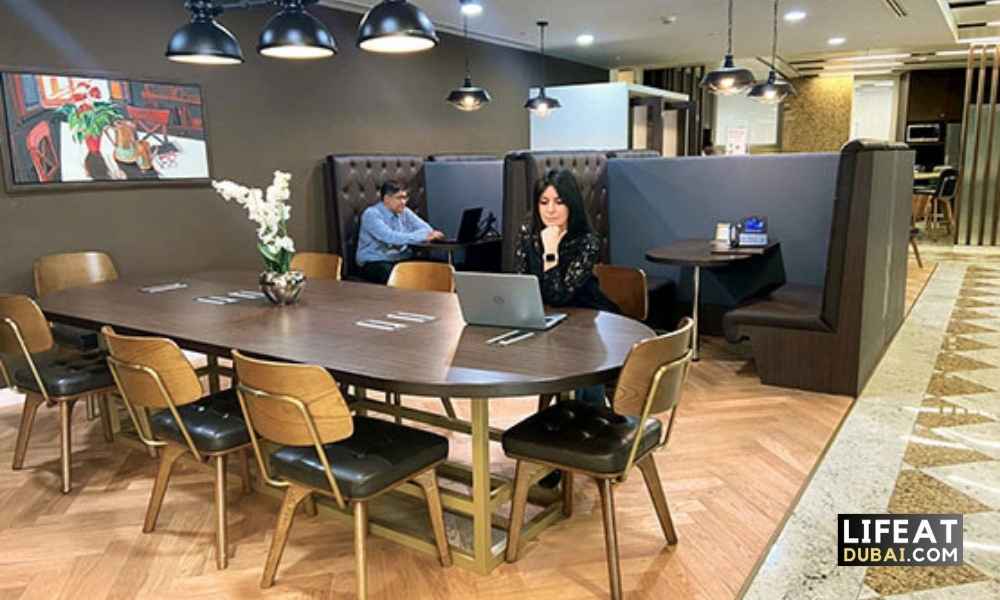 Conclusion
In summary, the Best Coworking Spaces around Bur Dubai provide professionals and entrepreneurs with innovative networking, collaboration, and idea exchange environments. These spaces offer state-of-the-art facilities, diverse workspaces, flexible payment plans, and a supportive community, fostering creativity, productivity, and business growth. They are ideal for freelancers, startups, and remote workers, offering a stress-free, cost-effective solution with inspiring collaborative settings.
| | | | | |
| --- | --- | --- | --- | --- |
| Co-working space  | Price range- Day/Week/Month/Hour | Distance to nearest Metro station | Opening hours  | Accommodation Availability |
| Letswork | AED 39 / Day Upwards | 2.2 km | Sun – Thu – 08:00 am – 05:00 pm | No |
| UNBOX Community | AED 850 / Month – 7000 / Month | 2.7 km | Sun – Thu – 09:00 am – 06:00 pm | No |
| Servcorp Boulevard Plaza | AED 550 / Month Upwards | 550 m | Mon – Fri – 08:30 am to 05.30 pm | No |
| The Co-Spaces | AED 262 / Month Upwards | 1.1 km | Mon – Fri – 09:00 am – 06:00 pm, Sat – 10:00 am to 02:00 pm | No |
| The Executive Centre – One Central Dubai | AED 1500 / Month – 12000 / Month | 650 m | Sun – Fri – 09:00 am – 06:00 pm | No |
| WeWork | AED 1300 / Month Upwards | 800 m | Mon-Fri – 09:00 am – 05:00 pm | No |
| myOffice – Downtown Dubai | AED 150 / Week – 5525 / Month | 700 m | Sun – Thu – 08:30 am – 05:30 pm, Sat – 09:00 am – 01:00 pm | No |
| Servcorp Emirates Towers | AED 890 / Month Upwards | 550 m | Everyday 24 hours | No |
| A4 Space | Free | 2.1 km | Mon to Sat – 09:00 am to 07:00 pm | No |
Also, read about following coworking spaces,