Dubai is home to many unbelievable attractions. They have the world's most significant, highest, and most extended creations. Ain Dubai Ferris wheel is one of them. Let's explore everything you should know about Ain Dubai.
What is Ain Dubai
Ain Dubai is a huge Ferris wheel located in Dubai city. The Wheel has 48 capsules with a total capacity of 1750 people. You can see numerous stunning views of Dubai's skyline from its peak.
Why is it called Ain Dubai?
They gave the project the Arabic name "Ain," which means "eye." As per the name, It provides a bird's eye view of Dubai.
Is the Dubai wheel bigger than the London Eye?
Yes! The London Eye is shorter than the Ain Dubai's height. The height of the London Eye is only 135m. But, Ain Dubai's height is 274m.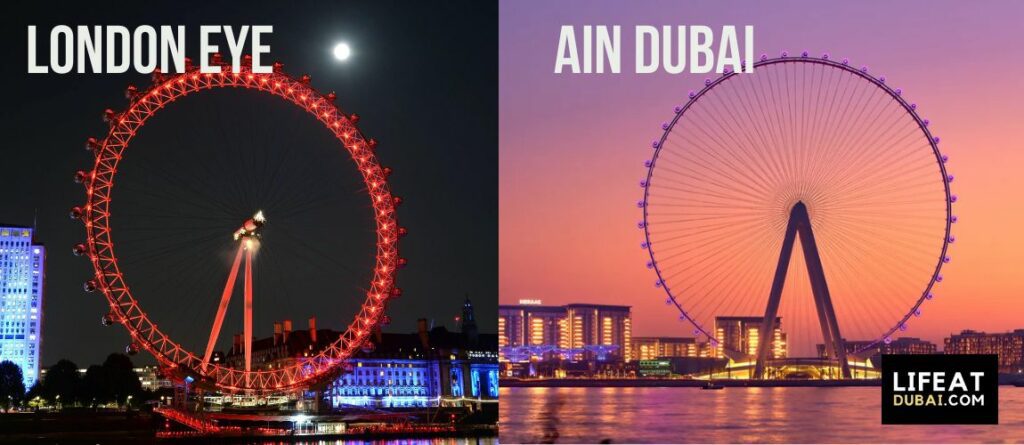 Is Ain Dubai open or closed?
Ain Dubai's opening date was 21st October 2021. Now it is available for visitors. Ain Dubai's opening hours vary as follows – Wednesdays, and Tuesdays, from 10 am to 9 pm, and Thursday to Saturday, from 12 pm to 9 pm.  
How to reach the Ain Dubai Ferris Wheel
Ain Dubai Wheel is only 36.1 km away from Dubai International Airport. And it is very close to most of Dubai hotels. So, you can reach Ain Dubai within almost 30 minutes by metro, taxi, or bus. 
Best Time To Visit Ain Dubai
To avoid the harsh city weather, the best time to experience the Ain Dubai observation wheel is from October to March.
How much does it cost to ride the Dubai Ferris wheel?
Ain Dubai ticket price starts from 33USD per adult. The highest ticket price is 65USD for 'Ain Dubai Premium Primetime Views.' And also, you can search for Ain Dubai ticket offers on websites like www.coupon.ae.  
Things to do at Ain Dubai Ferris Wheel
Ain Dubai is located in one of the best venues in Dubai city to get a stunning look around the city. On your Ain Dubai journey, you can see many iconic features around Dubai city. 
As it is open day and night, visitors can experience two sides of Dubai. Visitors can see the blue sea and shining skyscrapers with the sun during the day. Then, it would be an amazing view of light glowing Dubai city when dark falls. 
Ain Dubai Ferris Wheel provides more than a beautiful view of the city. It also consists of an entertainment zone at the Wheel's base. 
There will be a variety of "social experience" tickets available in addition to general admission tickets that come with drinks. Before boarding a ride, guests can take advantage of a priority check-in and a house beverage with the "Ain Dubai Lounge Plus Package."
Ain Dubai allows you to book an entire cabin for special occasions, such as birthday celebrations. 
What can you see from Ain Dubai Ferris Wheel?
You can see many iconic buildings of Dubai city like Burj Khalifa, Burj Al Arab, Jumeirah beach residences, and many more skyscrapers during the Ain Dubai journey. And you can see many other eye-catching attractions such as Palm Jumeirah too. 
Some interesting Facts about the Ain Dubai Ferris Wheel
It has been built for almost eight years, from 2015. But, at last, it opened in October 2021.
Ain Dubai is nearly twice the height of the London Eye Wheel. While London Eye is 135m high, Ain Dubai's height is 274m. 
Ain Dubai has broken the record of Las Vegas High Roller ( former highest Wheel in the world). It was only 168m in height. 
A full rotation of the Ain Dubai wheel will take 38 minutes. It is just a more than half-hour journey in the Dubai sky. 
Ain Dubai is the result of the collaboration of more than ten nations. 
The steel wheel structure was made in the UAE, South Korea, and Germany, and UK, France, and the Netherlands provided crucial engineering and project management skills.
It provides an amazing user experience with full air-conditioned passenger cabins. It can facilitate up to 1750 people for single trip.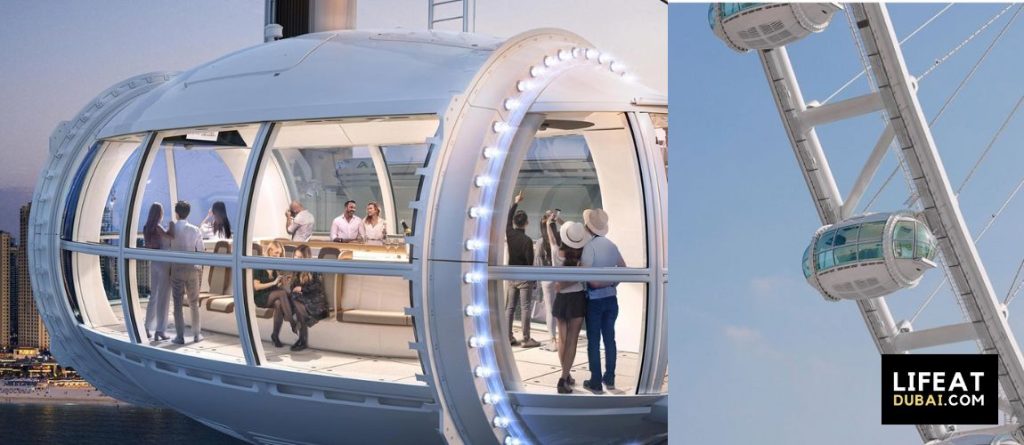 Best Restaurants near Ain Dubai
There are no Ain Dubai restaurants combined with the Wheel. But, many restaurants surround the location of the Ain Dubai Wheel. So, you have many choices, from budget restaurants to expensive ones around the attraction.
Among them, Hell's Kitchen, The Selfish Bull, and The London Project restaurants are good choices for western cuisine. Zhen-Wei restaurant would be a tasty option for Chinese food lovers. 
Ain Dubai Location
FAQ   
Is Ain Dubai open?
Yes! It was opened on 21st October 2021 after eight years of construction. 
Where is Ain Dubai Located?
Ain Dubai is located in Bluewater Island, Dubai, United Arab Emirates.
Who designed the Ain Dubai?
Hyundai Engineering & Construction hired WSP USA as the Lead Consultant and Architect of Record for the Ain Dubai wheel and terminal buildings.
How long did it take to build Ain Dubai?
Constructors took almost eight years to build Ain Dubai. Construction started in 2015 and opened in 2021. 
Who owns the Dubai Eye?
His Highness Sheikh Ahmed bin Mohammed bin Rashid Al Maktoum, Chairman of the Dubai Media Council, is the owner of Ain Dubai Ferris Wheel. 
How tall is Ain Dubai?
The height of Ain Dubai is 274m. It is the tallest observation Wheel in the world.
Where is the world's largest Ferris wheel?
Ain Dubai is the world's largest and tallest Ferris wheel.
How many pods does the Dubai Eye have?
There are 48 air-conditioned cabins in Ain Dubai. It facilitates 1750 passengers per ride.
How long is the Ain Dubai Ferris Wheel ride?  
Ain Dubai Ferris Wheel offers a 38-minute long ride for passengers.