In the newest reality show by Netflix, Dubai Bling, Loujain Adada holds a special place among the elite crowd. She is featured on the show as the second richest cast member. She was born in California in 1989 but is, in her own words, "originally and proudly Lebanese." Loujain Adada's net worth stands at around an estimated USD 4 million. As a fashion model, she earns an annual income of USD 15,000 to 30,000. 
In 2012, she married Walid Juffali, a wealthy Saudi billionaire who was 34 years her senior. Sadly he passed away in 2016 of cancer after 4 short years of marriage. After his death, Loujain inherited USD 1.1 million from his wealth. 
Stay until the end of the article to know more about Loujain Adada, the beautiful 'Dubai Bling' Star.
Loujain Adada's Net Worth in 2023
Loujain Adada's net worth is an estimated USD 4 million. Her amassed wealth is due to her successful career as a model, which began at 14. She went on to study fashion design and is a model for many advertisements. However, she could never make it to the runway due to her height. When she turned 21, she was given an opportunity to be a presenter on Energy Spin Magazine, aired on MTV Lebanon.
 After LJ's husband's death, she inherited an estimated USD 1.1 million from his estate. She had been focused solely on her family since her marriage. Even after his death, stayed out of the fashion world to take care of her daughters. Her estimated wealth at the end of 2019 was USD 1.9 million. It has grown to an estimated USD 4 million in 2023 thanks to various brand deals and model contracts. 
Loujain Adada's latest role in Dubai Bling
Dubai Bling is Netflix's Middle Eastern version of their famous reality show Bling Empire. The program showcases the inside stories of the daily lives of Middle Eastern millionaires. The main theme of the show attempts to showcase modern female Arab millionaires as being free from the restrictions of tradition in the Arab world. 
Loujain Adada's appearance on the show premieres in episode one with her going on a blind date with Ebraheem al-Samadi, an American-Kuwaiti entrepreneur who founded Forever Roses. Her confidence and outspoken personality contributed to her fame on the show. She soon became a fan favorite for her bold manner. The other cast members include Zeina Khoury, Safa Siddiqui, Lojain Omran, Kris Fade, Marwan Dj Bliss, Danya Mohammed, Farhana Bodi, and Brianna Fade.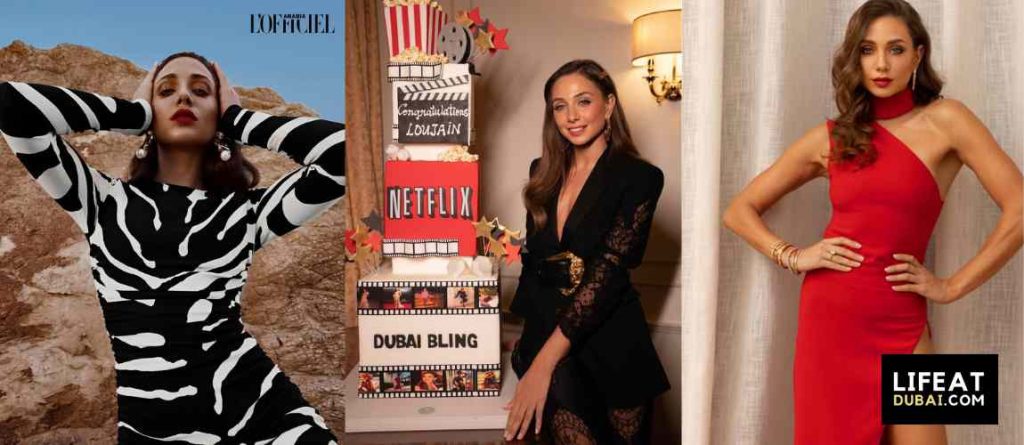 Loujain Adada's Late Billionaire Husband and family
Loujain Adada married Arab tycoon Walid Juffali in 2012 at 23, and she decided to take herself out of the spotlight to focus on her husband and family needs. Their wedding cost an estimated USD 10 million, and her necklace was over USD 2 million. She has two daughters, Talia and Lana, whom she regularly showcases on her social media. She stayed out of the social scene even after her husband's passing in 2016 after a battle with cancer, just two months after the birth of their second daughter. His net worth at his passing was just above an estimated USD 9 billion.
Loujain's return to mainstream media was with her appearance on Dubai Bling in October 2022. She was portrayed as the love interest of businessman Ebraheem al-Samadi. Loujain was estranged from her mother at a very young age after her parents divorced. She has spent many years attempting to reconnect with her. Reality shows have given an important focus to this fact. 
At present, Loujain is reported to be in a relationship with the male model Hasnain Lehri. The couple made their relationship public in November 2022. 
Loujain Adada Wiki | Bio and early life
Loujain Adada was born on November 11, 1989, and is 33 years old. She stands at 5'3″, which has hindered her career as a runway model. She follows the Islamic religion and, due to her love of fashion, started her career as a model when she was just 14. Despite her early fame, Loujain managed to finish school with honors and went on to study at a reputed college.
Loujain gained popularity after her appearance on the latest hit reality show Dubai Bling. As of 2023, her Instagram has grown to amass a massive following of 642,000. Her work in the fashion industry also contributes to an interesting and glamorous Instagram feed. The feed also showcases her family and private life.
Conclusion
The second wealthiest female star on Dubai Bling, Loujain Adada continues to inspire both men and women. She lives out her glamorous life on TV and in fashion. Loujain Adada's net worth stands at around USD 4 Million as of 2023. Her wealth continues to grow along with her fame, and she seems to grow more beautiful with age. 
FAQs
Is LJ from Dubai Bling, a billionaire?
No. LJ AKA as a Loujain Adada is not yet a billionaire.
How much is LJ Adadah worth? 
LJ AKA as a Loujain Adada's current net worth is an estimated USD 4 Million.
Did Loujain Adada inherit money?
Loujain inherited a part of her husband Walid Juffalis's estate at his passing in 2016.
How much did Loujain Adada inherit from her late husband?
Loujain reportedly inherited around USD 1.1 million from her late husband, Walid Juffali.